Weldaloy's Family Tree: The Robinson Brothers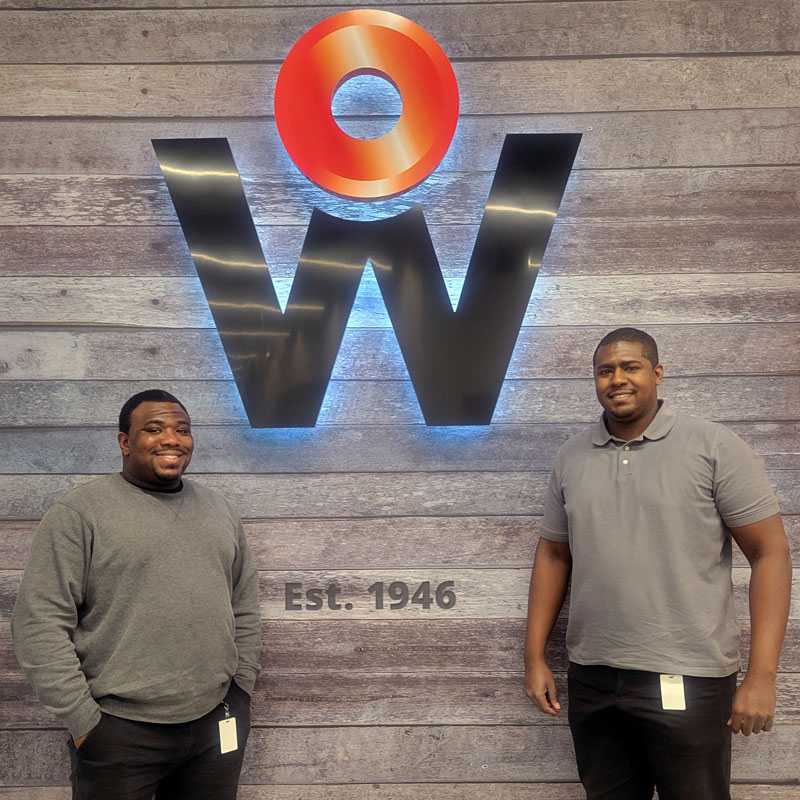 For businesses, employees can sometimes be connected in various ways. Siblings, friends, and spouses can turn into coworkers – bringing a whole new definition to a familial atmosphere to the office. There are several familial ties within the Weldaloy team; one example is the Robinson brothers, Kevin and Kenneth (Ken). Kevin started his career at Weldaloy in 2017 as a process engineer. A year later, Kenny joined his brother and became a process analyst, and would work his way to his current position as database analyst and programmer.
Saginaw, Michigan was the hometown for  Kevin and Ken. Their father is a medical doctor, and along with their mother, he built a practice in Saginaw and they continue to be in practice together today. Kevin and Ken also have a younger sister who is a medic in the National Guard.
Growing up, Kevin and Ken were not as close as they are today. With an age difference of just one year between them, the brothers often had the same teachers and participated in physical activities such as track and football. However, their other interests differed greatly – Kevin gravitated to math, while technology and science interested Ken.
"Our dad loves technology. Whenever he got a new technical device, he would get kid versions of the latest laptops and other technical devices for us," Ken recalled fondly, "I got my interest for technology from him."
After graduating high school – Kevin in 2009 and Ken in 2010 – they went to separate colleges to pursue their interests. Kevin attended Delta College for two years, while Kenny started at Central Michigan. But then, both of the brothers enrolled at Jackson State College in Jackson, Mississippi. Kevin and Ken would commute the 15-hour car ride from Saginaw to Jackson together, and it was during this time, the brothers developed the relationship they have today.
"I would say we started bonding the most during those trips," Kevin mused.
Ken jokingly added, "Yeah, once you get past Urbana, Illinois, there's nothing but fields. Talking to each other was the only way to pass the time."
Kevin always knew he wanted to be an engineer and pursued this field throughout his years in college. He received his bachelor's degree in manufacturing engineering from Wayne State University in 2020.
"I like finding creative solutions to solve problems," Kevin explained, "and I've always wanted to be an engineer because of that reason."
In 2016, Kevin noticed Weldaloy was in search of a process engineer. Kevin had never heard of Weldaloy and didn't know what the company did. Once he learned of the company's use of titanium, nickel and copper to forge products for the aerospace, power generation and electronics industries, he applied for the position. Kevin was offered the process engineer position, officially joining Weldaloy in February 2017. 
"Manufacturing is competitive," Kevin explained, "our customers hold us to strict lead times and requirements that we must adhere to. Engineers in this industry ensure that we meet the needs of our external customers while meeting the needs of our internal ones."
As a process engineer, Kevin plays a key role in the production process at Weldaloy. Our engineers create routings, which are recipes for making forged parts. Routings go into great detail on all the production steps, from raw material to the shipment of the final part. These include how long to heat pieces of metal for and at what temperature. Kevin and our other engineers work with every department at Weldaloy to ensure parts are produced correctly and shipped in a timely matter.
Through his interest in Lean Manufacturing and in-depth knowledge of Plex, Kevin spearheaded initiatives to standardize the routing creation process at Weldaloy. These improvements eased the workload for the whole engineering department, while improving production processes.
For Ken, however, his career path was not as clear-cut.
For most of his life, Ken wanted to follow in his father's footsteps and go into the medical field. Ken completed his bio-engineering degree in 2016 from Oakland University. Soon after, he enrolled in a master's program for biomedical engineering at Wayne State University. He would go on to complete this program in 2020. While earning his undergrad, Ken even became a certified nursing assistant and worked in that field for a little bit. He quickly discovered that this profession was not for him.
"For a while, I wanted to work with medical devices and equipment as a biomedical technician," Ken explained, "But it didn't fulfill my programming desires. I liked working with the technology and after a while, the medical component wasn't as important to me."
In 2018, Kevin recommended Ken apply for a process analyst position at Weldaloy. "I told Ken about how great the company culture is at Weldaloy, the cool parts it forges, and how nice the people are," Kevin said.
After a couple of interviews, Ken accepted a position as process analyst in October 2018, which had him working closely with Weldaloy's Quality department.
By the end of 2019, Ken started working in the sales department's CRM and ERP platforms and capitalize on sales opportunities. His skills working with their ERP and CRM systems got him quickly recruited to the IT department. Since the late 2020, Ken has excelled as the lead database analyst and programmer.
In addition to answering IT tickets, Ken manages  Weldaloy's ERP and CRM systems. His latest accomplishment is overseeing and developing Weldaloy's transition to ab updated version PLEX. This requires Ken to manage several smaller projects simultaneously, such as designing reports, setting up security profiles, and changing system settings to ensure a smooth transition. Whenever an issue arises within the ERP system, Ken is the go-to guy to fix these issues to keep everything running smoothly.
Kevin and Ken have solid careers at Weldaloy that will grow as the company expands.
"Weldaloy has parts on nearly every private space launch. Knowing that something I've worked on has gone into space is pretty cool," said Kevin, adding, "At the end of the day, I know I've done a good job. That's a pretty great feeling."
The personal connections he's made at Weldaloy also resonate with Ken, "Helping the company accomplish its goals through technology is extremely rewarding."
Though their roles at Weldaloy are incredibly different, Kevin and Ken Robinson are vital members of Weldaloy's team. "We fortunate to be able to work together everyday." says Kevin, "It's a great shop — I wouldn't have recommended it to my brother if it weren't."