Inspiring the Next Generation of Manufacturing Workers – Why Manufacturing Day is so Important
Weldaloy Specialty Forgings will be hosting students from Fitzgerald High School for Manufacturing Day, Friday, October 7. Established in 2011 by the Manufacturing Institute, Manufacturing Day is an annual event held on the first Friday of October, and is designed to increase interest in manufacturing-related careers among high school students.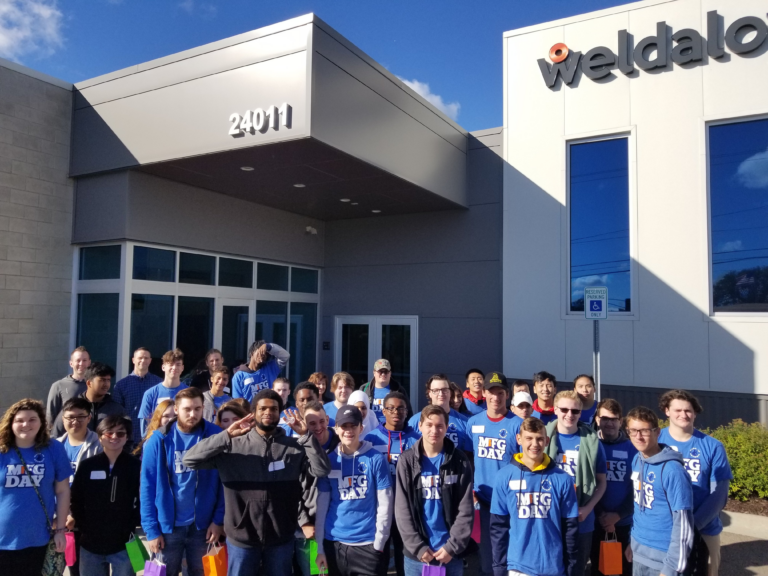 Based in Macomb County for 76 years, Weldaloy has been a host site and sponsor for Manufacturing Day since 2017, as the company relies on a skilled manufacturing and technical workforce. Weldaloy forges critical parts for the aerospace, power generation, electronics, and industrial applications.
Manufacturing careers at Weldaloy include hammersmiths, hammer helpers, manipulator drivers, CNC operators, machinists, heat treat operators, and supervisors. Weldaloy also employs skilled technical teams in engineering, quality, and metallurgy.
Manufacturing Day allows manufacturers to speak directly to students in their communities as an educational visit and a recruiting opportunity.
Thousands of manufacturers across the U.S. participate in this event, coordinating with local high schools to set up a tour of their facilities. This gives students firsthand experience with manufacturers in their communities and sees the opportunities available to them outside of four-year degrees.
Macomb County, located just north of Detroit, has partnered with Manufacturing Institute since the inception of Manufacturing Day.
Home of the Big Three auto makers, manufacturing plays a major role in Michigan. Manufacturing adds an estimated $13 billion to the Macomb County economy. The County realized 39% growth in advanced manufacturing jobs, with more than 9,000 new jobs created between 2016 and 2018 .
Warren is the largest city in Macomb County and the third most populace city in the state. Manufacturing is the largest industry in Warren, with 21% of Warren-based employees working in manufacturing related jobs.
Over the last decade, Manufacturing Day participation by Macomb County manufacturers and schools has grown substantially. 2022 is poised to be Macomb county's largest, with over 50 manufacturing host sites, including Weldaloy, and over 2,600 Macomb students from over 20 schools participating.
Manufacturing jobs in the skilled trades are the backbone of the American economy. In 2020, U.S. manufacturers exported $1.2 trillion dollars' worth of manufactured goods. Continuous advancements in many American industries, including aerospace, power generation, and electronics, are putting greater pressure on manufacturers in America than ever before.
American manufacturers have experienced a dwindling workforce since the 1980s. The manufacturing workforce peaked in 1979 with 19.4 million U.S. workers in the manufacturing sector. Today, that number hovers around 12.3 million workers in manufacturing jobs – equaling 9% of the workforce. It's estimated that by 2030, four million more manufacturing workers will be needed in the U.S. to meet the growing demand. 
Since the 1970s, American schools have encouraged students to pursue four-year college degrees instead of entering the workforce in the trades, partially the reason for both college tuition and student loan debt skyrocketing. On average, a four-year degree at a public college costs $142,000 (including tuition, fees, on campus lodgings, books, supplies, and other expenses). Today, America's national student loan debt is 1.75 trillion dollars, with 92% coming from federal student loans. The average student loan borrower owes $28,950 in student loans for a Bachelor's degree, taking roughly 20 years to repay the loans and high interest.
Given the costs, nearly 30% of American students are not planning to attend college. This gives hope to manufacturers that want to influence American students to consider manufacturing jobs after graduation through Manufacturing Day.
Manufacturing jobs are the backbone of American innovation. There's never been a greater need for a larger skilled manufacturing workforce to ensure the sustainability and growth of American industries. Thanks in part to the efforts of the Manufacturing Institute and Manufacturing Day, more students are becoming aware of the growing opportunities in the manufacturing workforce. Weldaloy is committed to inspiring the next generation of the manufacturing workers in our community.
As Mike Rowe, creator and host of Discovery Channel's Dirty Jobs, may have said it the best: "A civilization without skilled labor is not a civilization at all."