Weldaloy Hosts Students for Manufacturing Day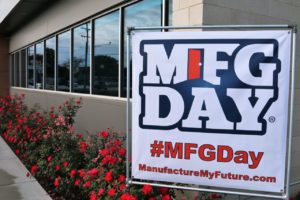 Warren, Mich., October 6, 2017 – Weldaloy welcomes more than 70 high school students from Fitzgerald High School (Warren, Mich.) and Cornerstone Health & Technology High School (Detroit, Mich.) to its campus on Friday, October 6, 2017 for Manufacturing Day. Students will experience manufacturing operations through hands-on, interactive tours of manufacturing facilities.
A nationwide event, Manufacturing Day hopes to inspire the next generation of manufacturers. In Southeast Michigan, the last decade has seen a reduction in skilled laborers to support manufacturing. Weldaloy has worked closely with the Macomb County Economic Development Committee (MEDC) to promote the great career opportunities that exist in manufacturing in Macomb County. MEDC's goal is for 2,000 Macomb County students to visit local manufacturing facilities at this annual event. Weldaloy is eager to highlight career opportunities for skilled workers to these student guests.
For more than 70 years, Weldaloy has been a leading provider of custom copper, aluminum, and other non-ferrous forgings serving a variety of industries such as Aerospace, Electronics, Oil and Gas, and more. Weldaloy's goal is to create meaningful and lasting relationships with each customer by providing the highest level of service and quality. For more information, visit weldaloy.com.
Note: Story has been updated to reflect correct name of Cornerstone Health & Technology High School.