Michigan – The Next Frontier in Space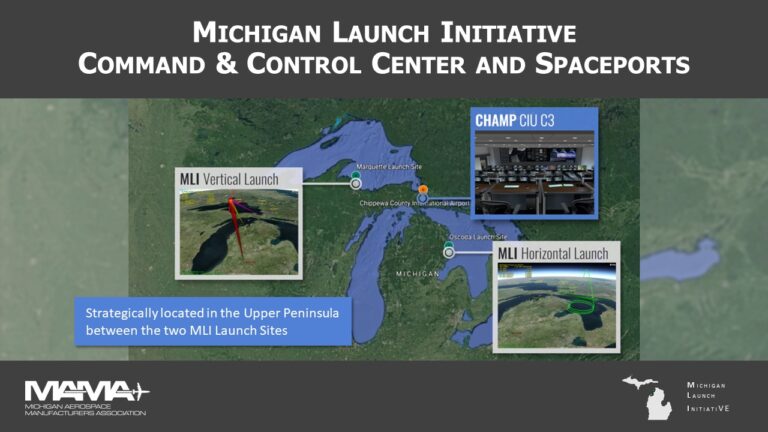 For decades, Michigan has played a considerable role in the aerospace industry. Due to the state's highly skilled industrial workforce, Michigan is ranked fourth in the nation for aerospace manufacturing. This has poised Michigan to be a top contender for establishing aerospace launch sites throughout the state. However, this notion has always seemed like a farfetched idea.
But in fact, launch sites in Michigan could be here sooner than we expect.
The Michigan Aerospace Manufacturing Association, or MAMA, has worked behind the scenes to start the Michigan Launch Initiative (MLI) for the last couple of years. In 2018, MAMA worked with Michigan state officials to secure a grant for a feasibility assessment for the MLI. Through this assessment, locations all over the state were scouted and underwent rigorous credibility assessments to be approved for the launch locations.
You read that correctly – locations, three to be exact.
Oscoda, Michigan, was the first location to be selected for a horizontal launch site in February 2020. Later that same year, Marquette, Michigan, was chosen to be the location for a vertical launch pad. And in January of 2021, Chippewa County, Michigan, was selected for a command control center location. The command control center would be utilized for other non-aerospace events, such as emergency crises relating to weather and national security.
In August, at the North American Space Summit (NASS 2021), MAMA announced that this feasibility report had been concluded. This report has lined out in detail all the findings in these feasibility reports. The completion of the information signals the next phase – acquiring the appropriate licensing for these sites. Depending on how the next steps pan out, these three locations should be active within the next ten years – possibly within the next five years.
But MAMA's goal isn't just to launch rockets and satellites into outer space. Instead, their goal is to create a booming aerospace ecosystem in Michigan. An ecosystem that would attract aerospace professionals all over the nation to relocate to Michigan. If this is achieved, easily thousands of jobs could be added to Michigan's economy. In addition, Michigan companies that support the aerospace industry, like Weldaloy, would be positively impacted by an aerospace ecosystem in Michigan.
"This is great news not only for Michigan but for Weldaloy as well," Fernando Lozano, Welaloy's Director of Sales and Business Development, said at NASS 2021. "Weldaloy is always looking for skilled workers, and news of Michigan's growing aerospace industry will encourage people to relocate to Michigan for job opportunities."
And while there is a lot of work still needs to be done to create an aerospace ecosystem in Michigan, the main concern is ensuring a workforce in Michigan to support the demand of the ecosystem.
This was discussed at length at NASS 2021, as Michigan is already experiencing a technical and manufacturing jobs shortage. This is especially true in the state's small but growing aerospace industry. Despite the efforts of MAMA and other Michigan-based aerospace associations, the aerospace industry is not well known, especially in younger generations. As a result, young Michiganders interested in aerospace often feel the need to move out of the state to find jobs.
But there are plenty of aerospace-related jobs in Michigan, and more job opportunities will continue to grow.
National organizations focus on inspiring new generations to work in the aerospace industry, and Higher Orbits is an excellent example of this. Higher Orbits sponsors events all over the country geared towards students of all ages to educate younger generations on aerospace. In addition, through their Go for Launch contests, Higher Orbits helps students get their science experiments launched into space!
Higher Orbits has done an excellent job, but more still needs to be done to help secure the future workforce in the aerospace industry. While many look to our school systems and governments, the solution starts with educational commitments from local businesses.
"Weldaloy is committed to supporting the education of future aerospace and forging workers," Katelynne McDougall, Marketing and Communications Associate at Weldaloy, vowed at NASS 2021, "We are a proud member of MAMA and the Aerospace Industry Association of Michigan (AIAM). We look forward to supporting other organizations that aspire to educate the masses on Michigan's aerospace ecosystem."
Within a matter of years, we will see satellites and rockets launched into space from Michigan soil. This will usher in a new and exciting era for our state that will change our economy forever.