Weldaloy Expands Capabilities Through Equipment Upgrades, Facilities
Warren, Mich., December 18, 2017 –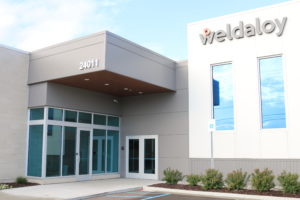 Weldaloy has made additional investment in its equipment and facilities as part of its commitment to increasing capabilities and planning for continued growth.
A 2,000-ton press has undergone a modernization of its hydraulic system, including pumps, motors, and controls. As a result, it operates with more available capacity, more up-time, and is easier to service and maintain.
Other equipment upgrades include ring roller controls—new software and hardware—and a size expansion to a furnace, enabling larger parts to be produced. In addition, Weldaloy has expanded its campus through acquiring two adjacent manufacturing facilities.
"These investments allow us to meet the needs of our customers," says Kurt Ruppenthal, Weldaloy's Vice President and General Manager. "Specifically, we're increasing our capabilities as a supplier to the aerospace and astrospace markets."
Weldaloy Products Company is a leading provider of custom copper, aluminum, and other metal forgings serving aerospace, astrospace, electronics, oil and gas, and other industries. For over 70 years, it has created meaningful and lasting relationships with each customer by providing the highest level of service and quality. Visit weldaloy.com for more information.