Forging Lightweight Alloys
When forged improperly, aluminum parts are at a higher risk of developing aluminum blisters. This can occur during the forging process when hydrogen collects abnormal grains inside a part. These trapped gases then expand, and bubbles form on the surface of the finished part. This creates blemishes in the part that can also hinder the overall quality of the forged aluminum part.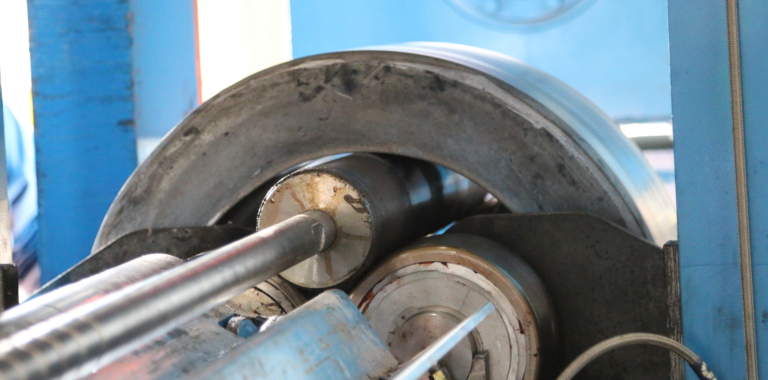 This is just one of the many challenges of forging lightweight alloys such as aluminum, titanium, magnesium, and nickel.
To be classified as a lightweight alloys, the composition of the metal must possess a low density and have a high strength-to-weight ratio. Lightweight alloys include aluminum, titanium, nickel, and magnesium. Lightweight alloys are used for many applications that require high strength while being light in mass. The demands for parts made in these alloys continue to grow in many industries, such as aerospace and aviation.
Weldaloy Specialty Forgings forges lightweight metals, including titanium, nickel and aluminum alloys. Their is a strong, growing demand for aluminum, nickel and titanium forged parts, particularly in the aerospace, aviation, and power generation sectors.
Recently, Weldaloy team members  Jonathan Meyer, Engineering Supervisor, Eric Burgmann, Metallurgical Quality Lead, and Dr. Ramachandra Canumalla, VP/CTO,  attended the Forging Industry Association Forging Lightweight Alloys Conference held at Pinehurst, N.C.
Industry experts and academic researchers converged at the FIA Conference for three days to discuss the forging, heat treat, and machining of lightweight alloys. Many of the presentations given at the conference focused on the obstacles of forging lightweight alloys, including aluminum blisters. The presenters provided insights on avoiding and eliminating such challenges when forging lightweight alloys.
Search for Titanium Containing High Entropy Alloys for Possible Substitution for Legacy Alloys in Aeroengine Applications was one of the papers presented at the Forging Lightweight Alloys Conference 2022. This paper was co-written by  Weldaloy's Dr. Ramachandra Canumalla and Dr. Tanjore V. Jayaraman, Assistant Professor, Mechanical Engineering at the University of Michigan, Dearborn.
Read more about this conference here. 
Meyer and Burgmann gained insightful knowledge at the Lightweight Alloys Conference and will utilize what they learned to improve Weldaloy's forging processes.